This is an old revision of the document!
---
News
Call for Workshops Proposals has been announced today. Workshops Program will be held on September 22, 2014. All proposals should be submitted by electronic mail, to the ACRI-2014 Workshop Chair email address (bandini@disco.unimib.it) as soon as possible and no later than January 9 2014.
For detailed information visit: Workshops
Today new, beta version of conference page was released.
Any remarks about this webpage functionality or content please send to acri2014@agh.edu.pl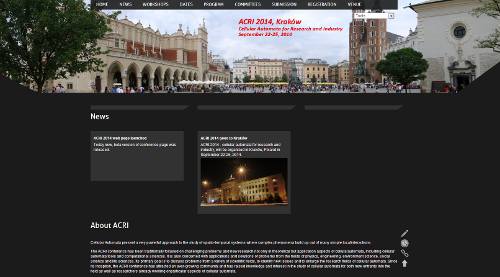 ACRI 2014 - cellular automata for research and industry, will be organized in Kraków, Poland in September 22-25, 2014.
Similarly to last edition all accepted papers will be published by Springer-Verlag in the Lecture Notes in Computer Science(LNCS) series and will be available by the time of the conference.